Main content starts here, tab to start navigating
Covid-19 Updates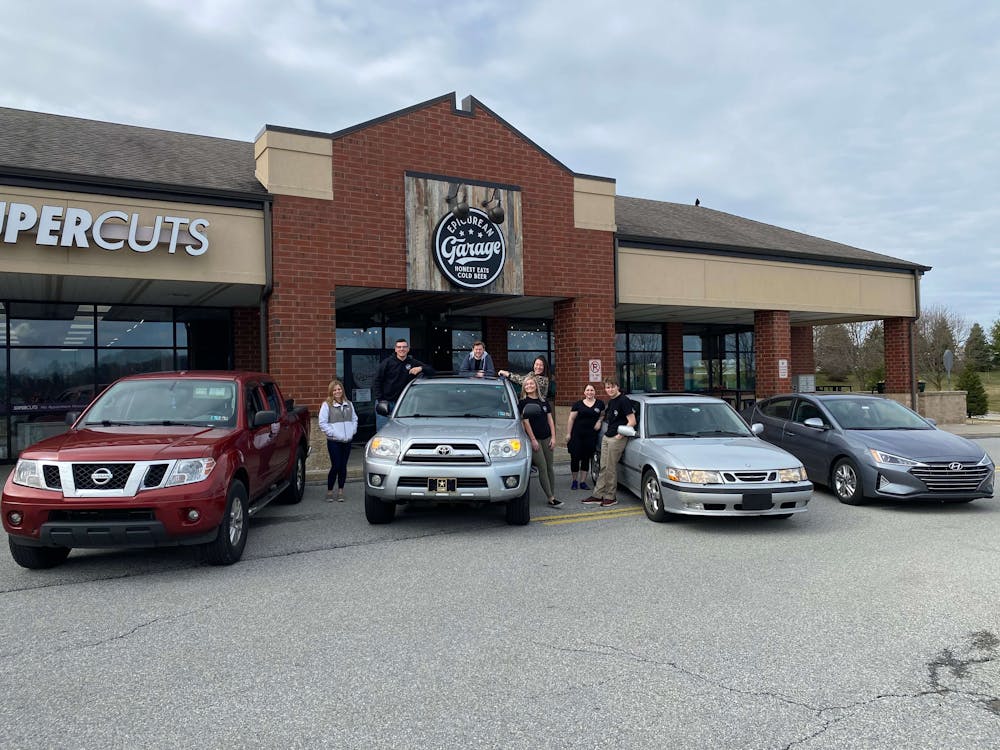 The Plan (at least for this week)
Our plan focuses on two key elements:

1. How to keep to a minimum the number of staff working closely in the restaurant at any one time.

Our goal is less than 10 staff at any time (we have two HVAC "air zones" kitchen and dining room and so we are comfortable with up to 10 staff on each side of the wall but will focus on fewer if possible. The kitchen also has a "negative air pressure" so it is not recirculating and also has mostly hot surfaces where the CDC says the virus is not viable. We also have our maintenance guy looking at the status and upgrading of HVAC filters).

2. A menu which delivers fresh, safe, tasty food as you've come to expect at the Garage and also allows for simplification so that it can be produced and delivered more efficiently with fewer staff and staff interactions in close groups.

So what do you need to know?

The most important thing to know is that we will have specific time windows for you to order ahead and that we will not be taking orders during food production and delivery times.

To order: call the restaurant between 10 AM and 3 PM Wed - Sun when we will have four staff manning the phone lines and four staff handling order entry. At 3 PM this 8 person order taking and entry staff will exit the Garage, the front will be disinfected to prepare for production and delivery staff to come in, and phones will be for order status/update/issues only.

When you call, you will be offered a time slot for your curbside pickup or delivery in 30 min windows from 4 PM to 8 PM e.g. you can place an order for 7-7:30 for example. You can also order for future days and time windows any time this week.

We will have limited "slots" available for each 30-minute order window to allow us: fewer staff in the kitchen for production, fewer staff in the front packing and delivering to curbside/delivery, and we also hope to make the timing more reliable and predictable. If you want a peak time slot, get your orders in early.

This approach will also allow us to attempt to accommodate dietary restrictions as our Chef and kitchen staff will have time to adjust menu items for specific needs. We can't promise we can always accommodate but we promise that we will always try. Please let the phone person know what you need and we will get back to you.

The menu is changing.

Please check out our updated menu as linked to our Facebook page and website.

This menu has two sections: a more compact a la cart section of Garage favorites and a family dinner section. There are some new things too. This will be the menu for this week and then we'll revisit for next week. We welcome feedback and input for next week's updates.

A few operational bits:

We are using our own servers and front of house staff for delivery. As a result and because of the operational complexities, we are discontinuing Door Dash during the Covid-19 period. If you live within approximately 5 miles, please consider using our delivery. This will help us to keep folks working and paid, it's a safe way to get your food to you, and you don't need to wait if your order is not ready upon your arrival.

For curbside pickup, please stay in your car and call us or flag down our person outside. We can't allow diners in the restaurant and we don't want you to be cold waiting on the sidewalk and possibly coming in close contact with other folks waiting.

Our curbside and deliveries will continue to be no-contact.

We are continuing and improving on all recommended health procedures. Staff will continue to wear gloves and face coverings and our heightened cleaning and disinfecting protocols remain in place.

We will continue to provide delivery of your grocery orders from Acme. Let us know when you call-in your food order so we can coordinate with your online ACME pickup order.

Finally, if you know of a neighbor who is compromised, quarantined, in financial or medical distress and who needs help, please let us know. We'll try to help. We're not built to be an aid organization per se but in these times we all need to help one another and we will always do whatever we can do.

Stay healthy, stay positive...

The Garage Team
Sunday, April 5
We are gobsmacked... Help us to the finish line!

Can you imagine how humbled and excited the crew at the Epicurean Garage was yesterday when the NBC10 truck rolled up?

It would appear that someone in our community was so moved that they called in the local TV media. We're not much for self hype so it took a bit of work to drag owner and Chef Lee Krasley and his sons Cameron Krasley and Cael away from making food for you and out front to do a "social distanced" interview with the NBC10 Philadelphia reporter. We apologize for the delay in orders and the disruption to pickups when this all went down.

Now to the serious meat of the matter. The NBC segment reported that we're at $4630 and just need about $400 bucks to make our goal, but they got that just a bit off as that amount is last weekend's donation.

We need 500 orders to get $5,000 donated from our donor this weekend and another $5,000 match from last weekend's donor for a total donation of $10,000 to our local food bank.

We have just over 200 orders so we are almost halfway to this weekends goal of 500 orders to get that $5,000 from our primary donor and we're going to need a BIG Sunday to make it to 500 orders for the weekend and win that $5,000 match for the Chester County Food Bank which will bring our total donation for this weekend to over $10,000.

We're going to need you to help us get the word out. Share our post, comment, like, forward, tag...whatever you can do to help us win the orders to make this goal.

If you're nearby, please consider placing any size order today starting at 10 AM for no contact delivery or pick-up between 4 PM and 8 PM. Maybe if not for dinner tonight, something tasty for the 'fridge for Monday and Tuesday when we're closed?

Locust Lane Craft Brewery are in the house and their beer orders count too. Order up some tasty fresh craft cans to pick up and that counts toward our order count. You do not need to order food for the beer orders to count.

If you're far away, or you just want to help out and don't need #HonestEats or a #ColdBeer, then you can phone in $20 or more to add to our crew's tip jar and these count as orders toward the goal.

We're going to need all the help we can get today to get to 500 orders total for the weekend and get that additional $5,000 from our generous family donor.

Frankly, we don't think we'll make it but our crew is working their cell phones, text messaging, and social media to get all of their family and friends to call something in to get us to the finish line. Maybe we can do it, just maybe...

As we explained in our post yesterday: with typical folks using and swamping the capacity for grocery store deliveries, our local food banks are THE critical link for the truly at-risk folks who MUST stay isolated. Many of these folks are wrestling with compromised immune systems and many are struggling financially. The food banks are their lifeline. There's another $5,000 on the line for our community food bank just for placing orders to help us get to 500.

And remember, every one of your orders is also keeping a crew working that would normally be laid off. Your orders and tips are also paying the bills of more than two dozen local restaurant workers who are the staff at the Garage. They're coming out every week and risking their health to be essential to keep meals coming to our community.

The servers base pay has been raised from server minimum wage of $2.83 p/hr to the general minimum wage of $7.50 p/hr and the rest of the crew has gone down to regular minimum wage. They are all being paid equally and are sharing equally in the pooling of your generous tips. Their rent, mortgages, car payments, tuition payments...all thanks to YOU.

We'll keep you posted on our progress as the day goes on so stay tuned into our posts on Facebook.

Our adjusted processes and procedures for this weekend:

The Garage is extending taking orders by phone at 610-615-5189 from 10 AM to 7:30 PM for this weekend and we will keep our kitchen open a bit later if there is enough order volume to try to hit the $5k match.

Meals are available for no-contact pickup and delivery from 4 PM to 8 PM in 30-minute windows and we will also extend this time window if we have the volume to make the $5K match.

If you are picking up, please stay in your car and flag down our staff out front or call the restaurant.

If you call and ask, we will attempt to accommodate all dietary and special requests.

We have an adapted menu linked to our Facebook and Web pages with family-style meals.

Staff is all working at minimum wage and sharing equally in the pool of your generous tips. It's your tips that are paying many of these servers' rent.

Delivery drivers are our own staff and are being reimbursed for fuel by our investors and stakeholders. We are delivering in an approximate 5-mile radius but will try to accommodate special requests especially for groups of multi orders from a neighborhood.

We are delivering Acme orders to those who need this; please call to coordinate.

As always, if you know of a neighbor or person in our community who's compromised, quarantined, or in need, lets us know. We'll do everything we can to help.

Stay safe. Stay healthy. #GarageFamily

The Garage Team
Saturday, April 4

The amazing thing that you did last weekend has lead to this...

Summary for those who don't want the backstory:

For each order we and Locust Lane Brewers take this weekend for no-contact pickup/delivery, a second anonymous donor is giving $10 to the Chester County Food Bank.

If we hit $5,000 raised, last weekend's family will match!

To show our love to you who are ordering, we and Locust Lane are again offering 10% off all orders to thank those who order and support this drive.

And, we are also including a $10 off coupon for future dine-in at the Garage with every order.

Note at the bottom that we are adjusting our procedures for later ordering and we will keep our kitchen going later if we can get the order volume needed to hit the $5,000 match.

Your shares and comments can help us cut through the social media algorithms and hit the $5k match.

Now for the back story and details:

Last night, we received a call from a local family elder. My phone rang, an unknown number, an unknown, gentle, and kind voice on the other end asked:

"Are you the person that organized the program last weekend at the Epicurean Garage where almost $5,000 was raised for our local community food bank?".

I answered that yes it was myself who worked with that family office.

And what happened next was so wonderful...

The man, the father of a family in our community and the CEO of a successful business explained to me that his daughter, who was sheltering in place with the family, has been truly inspired by what was happening at the Garage. She was so excited and as her dad has a background in marketing and advertising, she wanted to share the Garage as an example of how a small local business could make a true and real difference for social good in many ways at a very grassroots level during a very dark time.

So he said to me: "We want to do what that family did last weekend. We want to offer to donate $10 in the name of the Garage to Chester County Food Bank for every order you and Locust Lane Craft Brewery take this weekend."

To be frank, I was blown away. I was floored. To get the initial call last week from the first family to ask to pay for us to deliver meals to those who are most at-risk and at a disadvantage in these crazy times was startling. However, it seemed consistent with our current perspective and mission: help our community, help our staff, keep everyone healthy and fed.

In the end, it made more sense to empower the Food Bank, who knows how to do this properly, vs try it ourselves. Everyone was delighted. At $4630 raised, we all felt pretty good. No more than that, our team was totally pumped. We hope you were pleased too - it was YOU after all who made the order that drove the donation.

To have another family call completely out of the blue and want to repeat this generous philanthropic effort for our community was, well, just stunning to me.

Isn't it amazing what's happening? In the darkest hour, the shining good light in people still cuts through the gloom.

But wait, that's not all!

I was so excited that I phoned last week's donors to tell them how they had inspired this other family.

And do you know what they said?

They said, tell you what - last weekend was $4630, if you guys can hit $5k with this other family, we'll match it for this weekend!

Now let me tell you, this is not going to be an easy stretch, our dining community is not that big...

But, it could happen... We shall see!

The food banks are so important right now and what they need is funding and support to do their jobs. They are the experts at this and they have the infrastructure set up. They just need money to scale up to unprecedented levels.

So many folks are leaning on grocery stores for online orders and delivery that folks who are truly at-risk, low-income, elderly, and with compromising health situations and who need groceries the most, can't even access the delivery programs if they can afford them.

Our food banks and their partners are the truly expert lifelines to help our community have access to food in these unprecedented times...

Our adjusted processes and procedures for this weekend:

The Garage is extending taking orders by phone at 610-615-5189 from 10 AM to 7:30 PM for this weekend and we will keep our kitchen open a bit later if there is enough order volume to try to hit the $5k match.

Meals are available for no-contact pickup and delivery from 4 PM to 8 PM in 30-minute windows and we will also extend this time window if we have the volume to make the $5K match.

If you are picking up, please stay in your car and flag down our staff out front or call the restaurant.

If you call and ask, we will attempt to accommodate all dietary and special requests.

We have an adapted menu linked to our Facebook and Web pages with family-style meals.

Staff is all working at minimum wage and sharing equally in the pool of your generous tips. It's your tips that are paying many of these servers' rent.

Delivery drivers are our own staff and are being reimbursed for fuel by our investors and stakeholders. We are delivering in an approximate 5-mile radius but will try to accommodate special requests especially for groups of multi orders from a neighborhood.

We are delivering Acme orders to those who need this; please call to coordinate.

As always, if you know of a neighbor or person in our community who's compromised, quarantined, or in need, lets us know. We'll do everything we can to help.

Stay safe. Stay healthy. #GarageFamily

The Garage Team
Saturday March 28, 2020
This weekend, we can help those who need it most!

If you'd like to know how right away, scroll past the preface to "So listen to this…"

As this week has progressed, we've seen some fatigue setting in. With families all home together, the house can get small and "cabin fever" can set in. The news and grapevines bring more information about ways to stay safe and healthy, some seems a bit urban legend-ish. We're seeing the progress of cases and the real-world outcome of the virus in our area and others. Now more people "know someone" who's been diagnosed…

All this can get overwhelming and for some just talking with someone can help ease anxiety and calm the nerves. Our order takers are in house from 10 AM to 3 PM and we're just as happy to chat for a bit as take your order. If you're feeling isolated and anxious, you can always give us a ring to check-in.

At the Garage, we keep positive - at a 6' distance - as we continue to provide the essential service of making meals for our community. We ignore some of the more crazy ideas on health safety and focus on guidance from the CDC as our source for protocols. Our young staffers are pretty resilient and so the music plays to an empty room but they sing along and adapt dance moves to small groups 6' apart in between taking orders and getting your food to you. They make us older folks smile. We're proud of the sense of purpose they've found helping others. Which is why what comes next is really special for us this weekend…
So listen to this…
On Friday we were contacted by the managers of a family office for a local very wealthy family. They've been diners at the Garage and have had the chance to get a few of our $10 off coupons (we put one in every order during this time). They're following our posts and emails and they're moved by the practical real-world raison d'etre that the Garage crew has found in these trying times.

The offer came initially in the form of a donation to us to make meals for folks in need. However, we are not a non-profit or an aid organization so it was hard to figure out how to make that work.

In the end, we settled on what we think is a pretty cool idea!

For every order the Garage takes this weekend, this family will donate $10 to the Chester County Food Bank in the Garage's name. The Chester County Food Bank IS a non profit aid organization who are getting food to people in need during the crisis and you can check them out here:

https://chestercountyfoodbank.org/

In order to make it a good deal for our diners and to stimulate more donations to the Food Bank, the Garage is offering 10% off every order this weekend.

So this weekend, your orders are a quadruple win. You are:


1. Keeping staff working and paid and paying their bills
2. Sending $10 per order to our County food bank to help them with their mission
3. Getting a discount for yourself to help keep your costs down
4. Keeping the Garage going so we can continue to offer food and Acme deliveries to our community
We're excited about this and hope you are too!

As a reminder on procedures and protocols:

The Garage is taking orders by phone from 10 AM to 3 PM Wednesday through Sunday. Call (610) 615-5189 to order.

Meals are available for no-contact pickup and delivery from 4 PM to 8 PM in 30-minute windows.

If you are picking up, please stay in your car and flag down our staff out front or call the restaurant.

If you call and ask, we will attempt to accommodate all dietary requests.

We have an adapted menu linked to our Facebook and Web pages with family-style meals.

Staff is all working at minimum wage and sharing equally in the pool of your tips.

Delivery drivers are our own staff and are being reimbursed for fuel by our investors and stakeholders. We are delivering in an approximate 5-mile radius but will try to accommodate special requests.

We are delivering Acme orders to those who need this; please call to coordinate.

As always, if you know of a neighbor or person in our community who's compromised, quarantined, or in need, let us know. We'll do everything we can to help.

We can't wait until we can see you all again.

We miss the smiles, the kids, the dancers on live music nights, the cheerful bar conversations…we miss YOU.

Stay healthy. Stay positive. Stay strong. #GarageFamily

The Garage Team
Tuesday March 24, 2020
We have a plan! (again)

Feedback from yesterday's update letter was awesome and helpful, thank you! Some of the ideas you sent are really cool. Keep your input and feedback coming! It is so awesome for our team to feel so connected to the neighbors and communities that we serve!

First a short story, then the update.

If you just want the pertinent details, scroll down to "The Plan" section...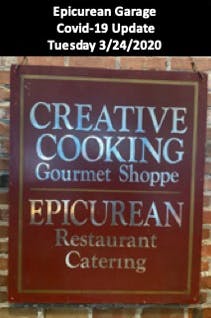 Our Chef, Lee Krasley, comes by his craft honestly. His mom, Loretta, was the founder of a popular catering and gourmet shop in Phoenixville, called Creative Cooking. Maybe some of our followers remember her or have a story?

Like Lee's, Loretta's food and service was also a local favorite and many families celebrated baptisms, births, showers, nuptials, birthdays, and yes, mourned deaths of loved ones comforted by Loretta's fine fair and cheerful crews.

Yesterday at our leadership team meeting (held via a Zoom and Facetime combo), Lee noted that it was hard to get our heads around how quickly the world shifted underneath us. As we debated menus and service methods vs the full-service restaurant mode that the Garage is built for, one could surely say metaphorically "Dorothy, we are not in Kansas anymore!"

In the end, these pivoted approaches to ensure that our community has: safe access to food and groceries, that our staff can keep working and pay their bills, and to ensure our team is safe and healthy haven't been so difficult for Chef Krasley or his team. One has to ponder if the reason might be because he was just going back to his roots with his mom: amazing food delivered and served for events by a local caterer and crew who were much loved.

One could bet, in these most unusual of times, that Loretta is looking down on him right now rooting for him and his crew at the Garage.


The Plan (at least for this week)

Our plan focuses on two key elements:

1. How to keep to a minimum the number of staff working closely in the restaurant at any one time.

Our goal is less than 10 staff at any time (we have two HVAC "air zones" kitchen and dining room and so we are comfortable with up to 10 staff on each side of the wall but will focus on fewer if possible. The kitchen also has a "negative air pressure" so it is not recirculating and also has mostly hot surfaces where the CDC says the virus is not viable. We also have our maintenance guy looking at the status and upgrading of HVAC filters).

2. A menu which delivers fresh, safe, tasty food as you've come to expect at the Garage and also allows for simplification so that it can be produced and delivered more efficiently with fewer staff and staff interactions in close groups.

So what do you need to know?

The most important thing to know is that we will have specific time windows for you to order ahead and that we will not be taking orders during food production and delivery times.

To order: call the restaurant between 10 AM and 3 PM Wed - Sun when we will have four staff manning the phone lines and four staff handling order entry. At 3 PM this 8 person order taking and entry staff will exit the Garage, the front will be disinfected to prepare for production and delivery staff to come in, and phones will be for order status/update/issues only.

When you call, you will be offered a time slot for your curbside pickup or delivery in 30 min windows from 4 PM to 8 PM e.g. you can place an order for 7-7:30 for example. You can also order for future days and time windows any time this week.

We will have limited "slots" available for each 30-minute order window to allow us: fewer staff in the kitchen for production, fewer staff in the front packing and delivering to curbside/delivery, and we also hope to make the timing more reliable and predictable. If you want a peak time slot, get your orders in early.

This approach will also allow us to attempt to accommodate dietary restrictions as our Chef and kitchen staff will have time to adjust menu items for specific needs. We can't promise we can always accommodate but we promise that we will always try. Please let the phone person know what you need and we will get back to you.

The menu is changing.

Please check out our updated menu as linked to our Facebook page and website which should be up sometime today, Tuesday 3/24/20.

This menu has two sections: a more compact a la cart section of Garage favorites and a family dinner section. There are some new things too. This will be the menu for this week and then we'll revisit for next week. We welcome feedback and input for next week's updates.

A few operational bits:

We are using our own servers and front of house staff for delivery. As a result and because of the operational complexities, we are discontinuing Door Dash during the Covid-19 period. If you live within approximately 5 miles, please consider using our delivery. This will help us to keep folks working and paid, it's a safe way to get your food to you, and you don't need to wait if your order is not ready upon your arrival.

For curbside pickup, please stay in your car and call us or flag down our person outside. We can't allow diners in the restaurant and we don't want you to be cold waiting on the sidewalk and possibly coming in close contact with other folks waiting.

Our curbside and deliveries will continue to be no-contact.

We are continuing and improving on all recommended health procedures. Staff will continue to wear gloves and face coverings and our heightened cleaning and disinfecting protocols remain in place.

We will continue to provide delivery of your grocery orders from Acme. Let us know when you call-in your food order so we can coordinate with your online ACME pickup order.

Finally, if you know of a neighbor who is compromised, quarantined, in financial or medical distress and who needs help, please let us know. We'll try to help. We're not built to be an aid organization per se but in these times we all need to help one another and we will always do whatever we can do.

Stay healthy, stay positive...

The Garage Team
Saturday March 21, 2020
On this Saturday morning after a very busy no-contact take-out and delivery Friday night, we have some things to report and are considering carefully what to do with the new information that's emerging seemingly by the minute. But first....

We want to say: WE ARE SO PROUD OF OUR TEAM.

They are voluntarily following tight social distancing, check-in, personal health monitoring, and working protocols - many of which they participated in developing and continue to improve as we go.

They have a strong sense of purpose in serving our neighbors at this difficult time and it's palpable. When a commercial enterprise can enable a mostly young staff to "rise up" in trying times, it's truly the best version of itself.

With the restaurant logistics channel for food mostly shuttered (this represents half of the food Americans access) and with many neighbors wanting no-contact grocery delivery - our team has stepped up to provide both ongoing delivery of our expanded menu with family dinners AND delivery of our neighboring Acme's order-ahead-and-pick-up for groceries. Bravo kids. Bravo.

Now to the serious stuff....

Our leadership team met last night, as we have every night since this began, to discuss next steps. Other local restaurants serving our 4-mile circle of neighborhoods have decided it's too risky to continue. They're smart, very smart people, and we respect them a lot. So now we are faced with the decision to keep going, trying to manage the risk as best we can (it seems less "manageable" with every news cycle), or to shut down...

In last night's post shift debrief, our staff passionately pleaded for us to go on. In the smaller leadership team meeting afterwards, things were more subdued and the safety of: our neighbors we serve, our team, and our at-risk heart transplant recipient owner and Chef were front and center.

What was decided is, for now, day to day, we're going to keep going. We believe that, based on discussions with advisors who are medical and health and safety professionals, that our protocols vs the risk vs the community's need for access to take-out and delivery food and groceries is an acceptable risk. We are not in this for the money, what's driving us is a sense that we are providing an essential service for those sheltering in-place or self-quarantining and we are doing so in the safest way possible.

We are, however, reducing our hours for today and tomorrow to 3PM - 8PM in order to reduce everyone's exposure window.

We can be reached at 610-615-5189, by PM on Facebook, or by email via our website www.epicureangarage.com. We are also attempting to monitor all comments on posts.

We will continue with our staff protocols and so you will see all staff staying as well back as they can in no-contact delivery of food and they will be wearing gloves and a face covering. We will also continue our heightened disinfecting and cleaning protocols in our physical plant.

We will re-asses this evening and then we will be closed on Monday and Tuesday as usual and then see where we are, going into next Wednesday.

Tonight - we will still have our masked friends from Locust Lane providing cold freshly brewed craft beer by the can. Available for take-out only as planned. Yum.

We hope that our neighbors agree and we encourage your feedback. If our neighbors feel that this service is unnecessary or too risky to continue, please say so as we take all the input we get into account every night when we decide what will happen the following day.

And please know, that no matter what happens, no matter what we have to do - we will be taking care of our staff financially and in every other way we need to. We are an extended family at the Garage and we will survive these trying times together.

Neighbors: stay safe, stay healthy, and please let us know how we can help you.

For a full rundown of what we are doing during this crisis, we have a dedicated page on our website HERE.

In addition to our full menu (we may run out of certain items due to supply chain), we are offering a Family Menu. This is the current version and we will update as needed on our website menu page HERE.
Tuesday March 17, 2020
As we all settle into this "new normal", our leadership team has spent our usual Mon & Tue off planning and preparing for tomorrow when we will reopen for the week - just in a different mode.

We have several guiding principals in these uncertain times:

1st and foremost - support and provide value to our local neighbors and community.

2nd - keep our staff paid and ensure that they're able to pay their bills and take care of themselves.

3rd - protect our staff's health, and especially our owner and chef, Lee Krasley, who is in the most at-risk groups having had a heart transplant and being our most senior staff member.

We believe if we do these things, the rest will take care of itself.

So here's the plan:

We are monitoring our staff carefully to ensure that none are involved with the virus. We are increasing all disinfecting and cleaning protocols for physical plant and staff and enacting all CDC recommended procedures for a take-out and delivery restaurant during the time of Covid-19 precautions.

We are moving to a full-on take out and delivery mode which re-purposes our servers as delivery drivers and engages our entire team in the effort to take, fill, and deliver orders for take-out or delivery. For some, like dishwashers, who need different work, we are taking this time to deep clean and make physical plant improvements.

To ensure our staff's financial health, we are guaranteeing everyone, including servers who typically have a lower minimum wage of $2.83 per hour, the regular minimum wage of $7.25 per hour and we are pooling and sharing all tips across our teams. Our investors and stakeholders are covering our team's costs of fuel. We are ready to ensure that our people earn on average what they were earning before Corona and Covid-19 precautions were enacted.

Our hours for this week will be: Wednesday through Friday 4 PM through 8 PM and Saturday and Sunday 3 PM through 8 PM and we can be reached at 610-615-5189.

While we can't honor coupons in our current take-out and delivery mode, we are including a $10 off coupon with every order for use at a future dine-in experience.

We have a new add-on "family style" menu which includes a number of choices for families who are taking advantage of "slowing down" a bit to have a sit-down meal. Be sure to check out our Family Dinner Selections on our posted menus on our website at www.epicureangarage.com

We are offering no-contact curbside pick up and delivery. For curbside, someone will bring your order out and place it in your trunk, etc. For delivery, we can leave the food outside the door or wherever you direct.
We're also here if someone at-risk or self quarantining needs something from our Acme; order online & we'll deliver with your food. Give us a call: 610-615-5189.

If there's any way else that our team can help our local neighbors and community, please reach out. We will do everything possible in these difficult times.

We're all in this together. We don't know how well we'll do with all this but we're going to try our best to be the best version of ourselves for our neighboring communities during these challenging times.